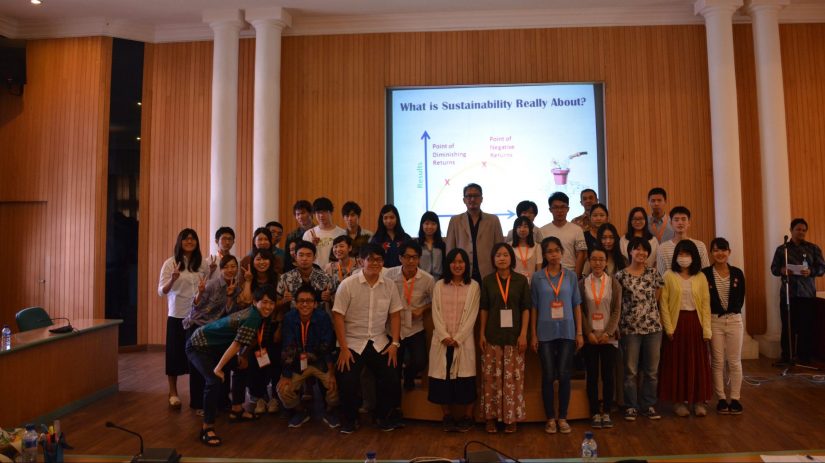 Warm greeting from Universitas Gadjah Mada, Indonesia
Mother Nature is a gift for us to keep. Land, water, air, animals, plants, and everything on earth is a precious thing to preserve. However, we can no longer take the beauty and fruitfulness of the planet for granted. In fact, our planet is in crisis.
Gadjah Mada University, Indonesia, together with University of Agder, Norway and ASEAN University Network (AUN), now offer a collaborative MBA program that brings together various academic and practical perspectives to engage with pressing sustainability challenges.
The Program is a full-time 2 years MBA (120 ECTS) but taught intensively over 18 months. The selected multidisciplinary approach makes this master program unique. The courses are taught jointly by professors from UGM and UiA, and practitioners from private businesses and public offices are invited as guest lecturers in most courses. Faculty members from participating AUN universities will also be invited as guest lectures, based on their scientific qualifications and regional competencies from various parts of ASEAN.
Combining competence from business school disciplines, such as Finance, Marketing, Strategy and Business Ethics, with knowledge and experiences from environmental sciences, like Forestry, Agronomy and Engineering, shall bring students towards a deep understanding of environmental problems and solutions. A practical case study approach throughout the courses will educate and train the students in economic-ecological system analyses. Throughout the study program, students will learn about the necessity of multi-stakeholder engagement and corporate and public social responsibility.
The program offers two Concentration Tracks in Sustainability. Track 1 comprises courses on Energy Resource Management, Urban Planning and Management, and Climate Change Laws and Greenhouse Gas Reductions. Track 2 consists of courses on Food Security and Sustainable Agriculture, Marine Resources and Coastal Management, and Forest and Conservation Management.
Track 1 :
Energy Resources Management :
This course offers an overview of energy resource and the management of energy production and supply. The course also offers analyses of potential strategies for improved access to electricity in under-served regions, particularly by community empowerment for local production. The course connects to Financial Management in discussing funding options for renewable energy initiatives.
Urban Planning & Management :
Students are introduced to the governance and technical/spatial considerations in urban planning and management, while also considering the socio-economic aspects. The course also deals with community empowerment for resource-efficient water conservation and waste management.
Climate Change Laws and Greenhouse Gas Reductions :
This course covers the following main topics including International strategies and laws, climate change law-making and climate change and GHG reduction/trading policies and regulations
Track 2 :
Marine Resources and Coastal Management :
This course introduces fundamental concepts in oceanography and marine ecology. The course explores various management models, and students learn to include carrying capacity analyses in business models. We also present and discuss case studies of governance and conflicts in the use of marine and coastal resources in ASEAN
Forest and Conservation Management :
Focus is set on management and new technologies, product platform, and innovative business models, which will possibly dominate the shift from both traditional peasant and modern industrial agriculture towards a socially just and environmentally sustainable food production and distribution system.
The program offers full scholarship for two intakes selected students from ASEAN countries are offered stipends through the funding from the Norwegian government. Each student will receive approximately 17,000 USD in total. The scholarships shall cover the full costs of tuition fees, travels, and living costs for the whole study period of 18 months. The first intake of the program will commence in August 2021.
For more information regarding the program visit the link
Eligibility 
Candidates from ASEAN countries are eligible for the full-scholarship. Priority is given to candidates from Cambodia, Laos, and Myanmar.

Students from Norway, or other non-ASEAN countries, are also eligible applicants for a limited number of seats without stipends.

Applicants must have a minimum of a bachelor's degree from a recognized university.

Suitable academic backgrounds may be from economics, management, agricultural or forestry sciences, engineering, political science, geography or law. Students with other relevant higher education may also apply.

Applicants must submit proof of English language fluency (TOEFL or IELTS, or otherwise in agreement with recruiting universities).

Applicants for stipends shall be under the age of 30 by the time of application.
Required Documents 
Color photo with formal attire. (.jpg/.jpeg/.png)

Curriculum vitae or resume. (.pdf)

Motivation letter. (.pdf)

Scan of valid passport. Page 1: ID page, page 2: info page, if any, page 3: front and back covers. (.pdf)

Two recommendation letters from applicant's school/institution. (.pdf)

English version of legalized undergraduate certificate and transcript. (.pdf)

English version of statement of good health from applicant's doctor. (.pdf)

 English Proficiency Test. Minimum TOEFL PBT:550, or IBT:80, or IELTS: 6.0, or an English proficiency guarantee letter from selected ASEAN Universities. (.pdf)
How to Apply 
Register online at the Sustainability Management MBA website (www.asean-sustainability.mba/apply-now) no later than February 8th, 2021